Posted by Hala Tree Coffee on Nov 12th 2023
The holiday season is upon us, and what better way to spread the festive cheer than with the gift of exceptional coffee? At Hala Tree Coffee, we've prepared a delightful selection of gift boxes and coffee clubs that are sure to delight coffee lovers and bring warmth to your holiday celebrations. Join us as we explore the Hala Tree Coffee Holiday Gift Guide and discover the perfect presents for your loved ones (or yourself) this holiday season.
1. Hala Tree Coffee Holiday Gift Box
Give the Gift of Holiday Magic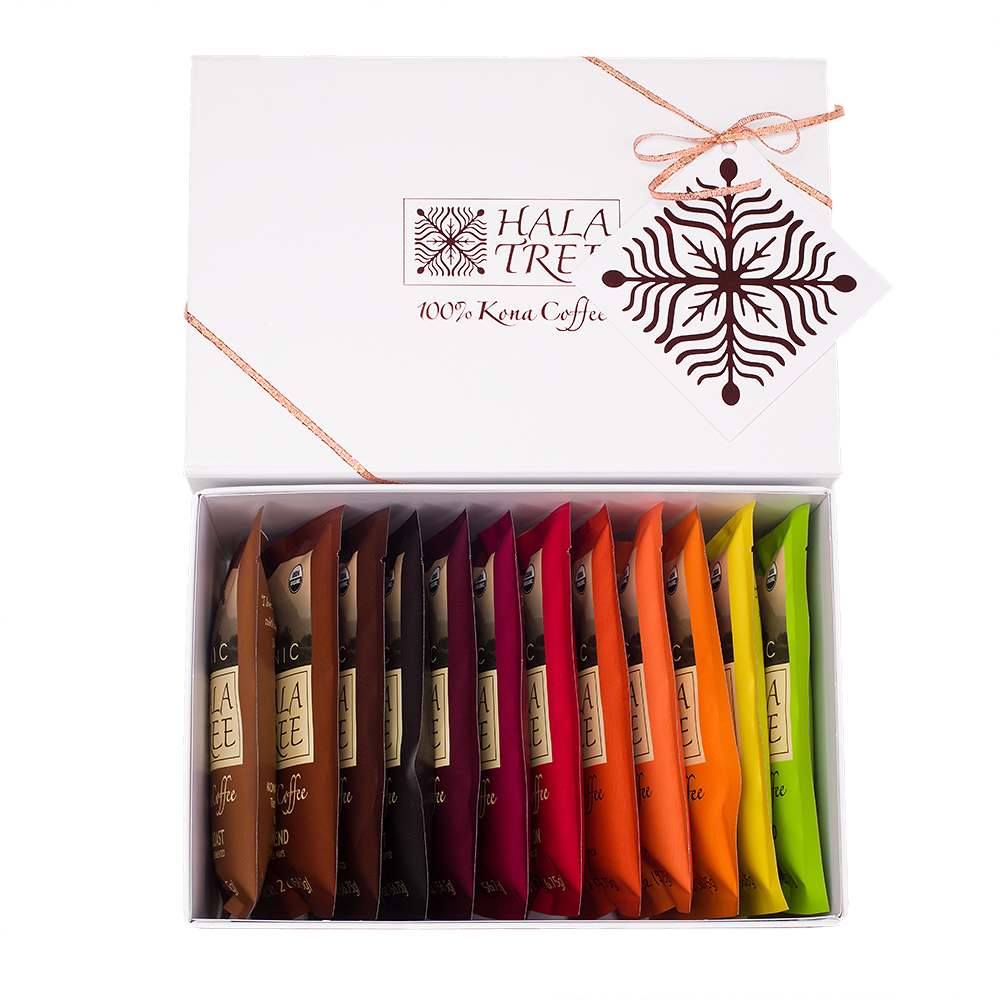 Our Hala Tree Coffee Holiday Gift Box is the perfect way to kick off the holiday season. This specially curated gift box is a true coffee lover's dream, featuring a variety of our finest coffee selections, each with its unique flavors and aromas. From medium to dark roasts, this gift box has it all. It's the ideal present to bring a touch of holiday magic to every cup.
2. Hala Tree Coffee Espresso Gift Box
For the Espresso Aficionados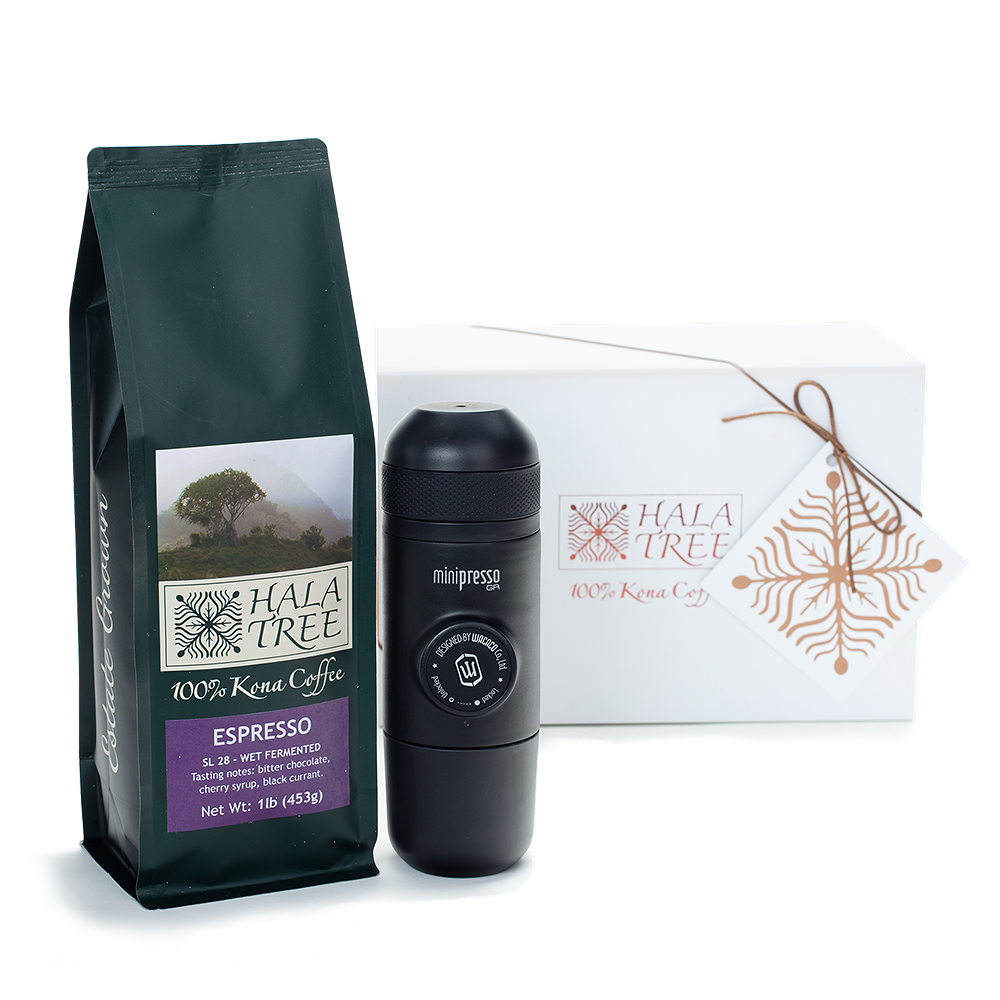 If you know someone who adores the bold and robust flavors of espresso, our Espresso Gift Box is an absolute must. This collection showcases a selection of our most premium espresso blends, expertly crafted to elevate your daily coffee routine. With this gift, you can share the essence of Italy in every shot.
3. Hala Tree Coffee Kona Coffee Club
Join the Coffee Adventure

For a gift that keeps on giving, consider our Hala Tree Coffee Kona Coffee Club. Choose from three fantastic options to suit your recipient's preferences:
Tasting Club: Explore a diverse range of coffee flavors with a monthly tasting experience.
Green Coffee Club: Roast your beans with our green coffee selection, perfect for the DIY coffee enthusiast.
Classic Kona Coffee Club: Enjoy a steady supply of your favorite Hala Tree Coffee, ensuring you never run out of your coffee of choice.
Whichever club you choose, you'll receive freshly roasted coffee delivered right to your doorstep, providing an authentic taste of Kona coffee at its finest.
4. Hala Tree Coffee Hawaii Gift Box
Experience the Essence of Hawaii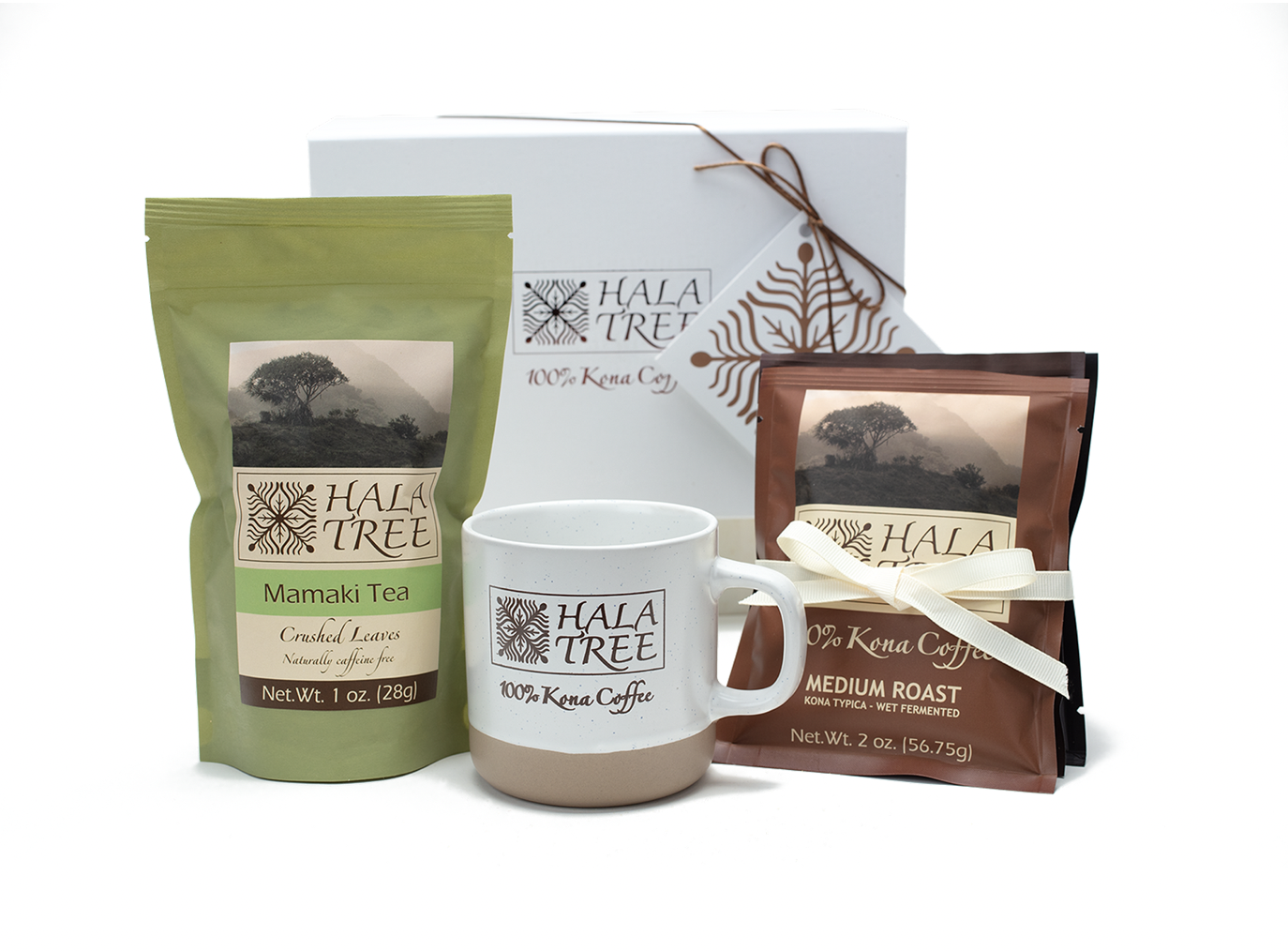 Our Hawaii Gift Box is a special treat for those who appreciate the finer things in life and want to experience the unique taste of the Hawaiian islands. Combining the warmth of Aloha with the richness of our coffee, this gift box is the ideal way to transport your loved ones to the paradise of Hawaii, one sip at a time.
---
There you have it – Hala Tree Coffee's ultimate holiday gift guide. Whether you're looking to surprise your friends, family, or yourself, our carefully curated gift options have something for every coffee enthusiast. Make this holiday season extra special with the gift of exceptional coffee from Hala Tree Coffee. Start your shopping today and share the joy of coffee with your loved ones. Happy holidays!