Posted by Hala Tree Coffee on Dec 19th 2022
Kona coffee is world-renowned for its aroma and taste. As one of the most expensive coffees in the world, a lot of people wonder if Kona Coffee is worth the hype or worth the money. Without understanding how or why coffee is qualified and what elements make it more refined, it's easy to not appreciate the nuances and overlook the qualities that make Kona Coffee truly one of the best in the world. It's important to know what Kona coffee is so you're able to find the best Kona coffee in Hawaii!
What is Kona Coffee?
The name "Kona Coffee" is applied to any coffee grown and cultivated on the the slopes of Hualalai and Mauna Loa, two gorgeous mountains on the Big Island of Hawaii. Coffee has to be grown in these Kona districts in order to be classified as Kona Coffee. The porous volcanic soil is rich in minerals and perfect for coffee-growing. Combine that with the sunny weather, misty rain falls, and mild nights, and you get the rich and delicious Kona Coffee. All these qualities make Kona Coffee one of the most expensive in the world and contribute to making the best Kona coffee in Hawaii.
What are Kona Blends?
The rarity and price of Kona Coffee means that it's not always the most accessible cup. Many retailers have begun selling blends, "Kona Blends". When you see or hear "Kona Blends" it doesn't mean that that coffee is a blend of different Kona coffees, but rather that there is blend of Kona Coffee with other types of coffee like Brazilian, Colombian, or other more available coffees. In order to qualify as a Kona blend, coffees only need to contain 10% of Kona beans. Many of the blends only include the required minimum. Many sellers will include labels like "Kona Roast" or "Kona Style" to not have to mention "blend". If you're looking for real Kona Coffee then look for "100% Kona Coffee".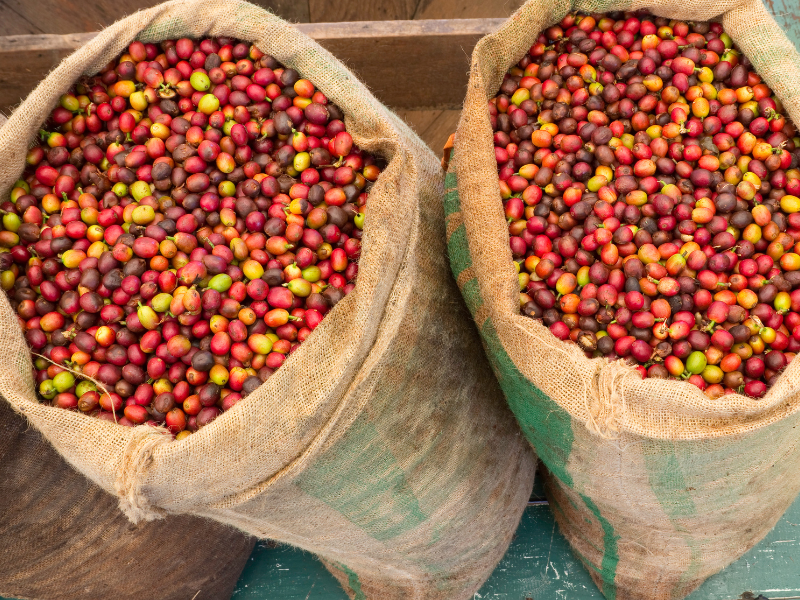 What makes the Best Kona Coffee in Hawaii
Unlike most producers, at Hala Tree Coffee, we control and monitor every stage of what makes exceptional coffee. Nothing is taken for granted. The beans are grown and nurtured in our fields, harvested by hand, then carefully processed and roasted to perfection on-site. We're constantly innovating our processes to push ourselves, and the industry as a whole, to ever-higher levels of excellence.
Hala Tree is also proud to have won awards from the Hawaii Coffee Association, the Kona Coffee Farmer's Association, the Kona Coffee Council, and more. You can see a full list of awards HERE.
Our passion and dedication for coffee means that we produce some of the best Kona coffee in Hawaii.
Buy the best Kona Coffee in Hawaii
You'll be relieved to know that you don't have to fly over to Hawaii to get your Kona Coffee fix. Many of the local farms on the Big Island of Hawaii have their products available online. This means getting the best Kona coffee in Hawaii delivered straight to your door has never been easier! Hala Tree offers some of the freshest, most aromatic and delicious coffee around. Shop Hala Tree Coffee Here.