Where is Kona Coffee Grown?
Short answer: Kona coffee come from Kona on the Big Island of Hawaii. In order to be considered Kona Coffee the coffee must grow in the Kona coffee belt. It is about two miles wide, ranging from 700 to 2,000 feet in elevation.
Learn more:
Maybe it was your first visit to Hawaii. Or maybe it was a friend or coworker returning from their honeymoon. Whatever it was, everyone remembers the first time they heard about Kona Coffee. For some, it is synonymous with Hawaii in general. For others, it just means really high quality coffee. Sufice to say, where Kona Coffee comes from is just as important as the coffee itself.Kona is a district on the west side of the Big Island of Hawaii. Within the Kona district, you have the Kona Coffee Belt. This is a region of farms where some of the finest coffee in the world grows. These farms sit on the slopes of the volcanos Mauna Loa and Hualalai.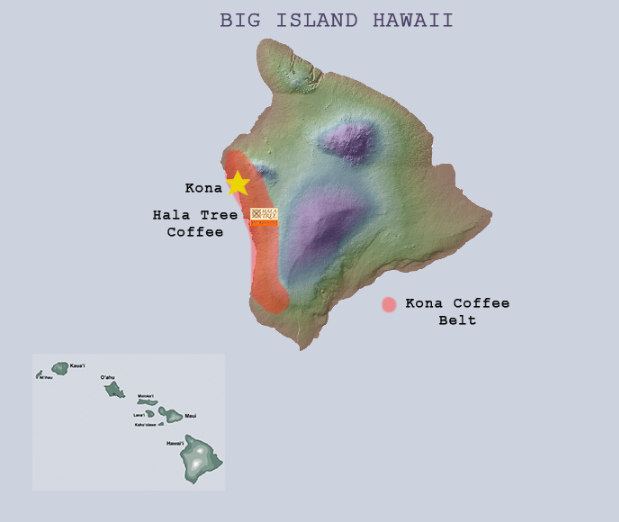 The word "Kona" in Hawaiian means Leeward or dry side of the island. This points out a very important detail of how Kona Coffee is grown. Between the microclimate in the Kona Coffee belt and the rich volcanic soil, the growing conditions for coffee are perfect. All that to say, the only place that Kona Coffee comes from is the Kona side of the Big Island of Hawaii.

When purchasing Kona Coffee, you should be looking for 100% Kona Coffee. While this may sound like obvious advice, there are a lot of mimickers out there. An example is the Kona blends. These are roasts that may only include a small percentage of beans actually from the Kona district of the Big Island.

While there are a lot of imposters, you can easily find high quality Organic Kona Coffee here at Hala Tree. Head over to our online store to purchase a pound of one of our amazing roasts. Or even better, make a point to come to our farm located on the Kona Coffee Belt and learn how we create great tasting coffee and tea. We are proud to be able to say that we grow, pick and roast delicious Kona Coffee so you can enjoy a cup of the Big Island no matter where you are in the world!