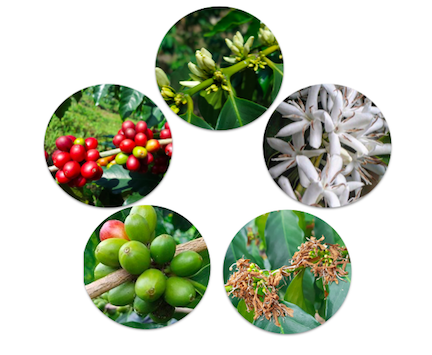 Hawaii isn't usually synonymous with snow but here on the big island we see our version of white snow covering our farms. It comes in the form of millions of white small coffee blossoms. Our trees are covered with these beautiful white flowers that have a sweet fragrant smell. The smell fills the air and reminds us that the cherries will soon be here.

Hawaii has many tropical plants and flowers but Kona snow is truly a beautiful site, one that should not be missed if your lucky enough to be visiting Hawaii in February and March. These are the months where the green coffee trees are temporarily covered in white. It is the perfect time to walk through the coffee plantation.

These flowers are not just admired and enjoyed by us the bees are very busy during this time. The bees pollinate these coffee blossoms. Busy bees fly back and forth from their hive where they create the honey we later collect. This honey is more fragrant due to the coffee blossoms and is sold as Coffee blossom honey. Here at Hala Tree Coffee you can purchase the honey at the market, online or even order a gift basket.

By April the flowers start to wilt and make way for the green coffee cherries. Each flower becomes a green cherry that in a few months' time will turn deep red. This season will be a good one. Come visit our farm will give you a tour!