HALA TREE did quite a few competitions in the past for green and roasted coffee as well. Competitions give us the opportunity to compare our coffee to other farms.
We experiment with different methods of processing to see if it improves the quality
and score of our coffee. We try to do something new every year…
A perfect opportunity presented itself when PCR (Pacific Coffee Research) was in charge of organizing the first ever preliminary coffee brewer's competition in Hawaii.
We sponsored the event and donated our naturals for the contestants use.
We were very excited about the prospect of exploring a new aspect of the coffee business and flew to Honolulu to watch the contestants give their presentation. We were fascinated.
Four out of the twelve participants were moving forward to the national qualifiers. The second place was given to a Big Island based barista named Madeleine. We were hooked and offered to sponsor Madeleine for the next competition using our coffee.
Each season we have our coffee evaluated by professionals to check the quality. This year PCR had an additional task; pick the best coffee for the brewers cup competition. Madeleine is a certified Licensed Q Grader and took a big part in the selection. Licensed Q Graders evaluate coffee in formal cuppings or competitions, they are trained professionals that can identify qualities and flaws in coffee, describe aroma, taste and body in coffees.They selected not one but two of our coffees; the first one was our naturals and the second our first crop of Red Bourbon which was already very promising.
Brian from PCR was in charge of perfecting the roast profile for each of these coffees then decide with Madeleine the proportions for the mix. After quite a bit of experimenting they decided on a 70% Naturals and 30% Red Bourbon blend.
Selecting the coffee was just the beginning. More decisions needed to be made, like the water-coffee ratio, the grind, the equipment to brew the coffee and all items for the presentations including coffee cups. Madeleine has hers made by a local artist. Brian was also a coach for Madeleine's presentation both oral and brewing skills needed to be at their best.
The competition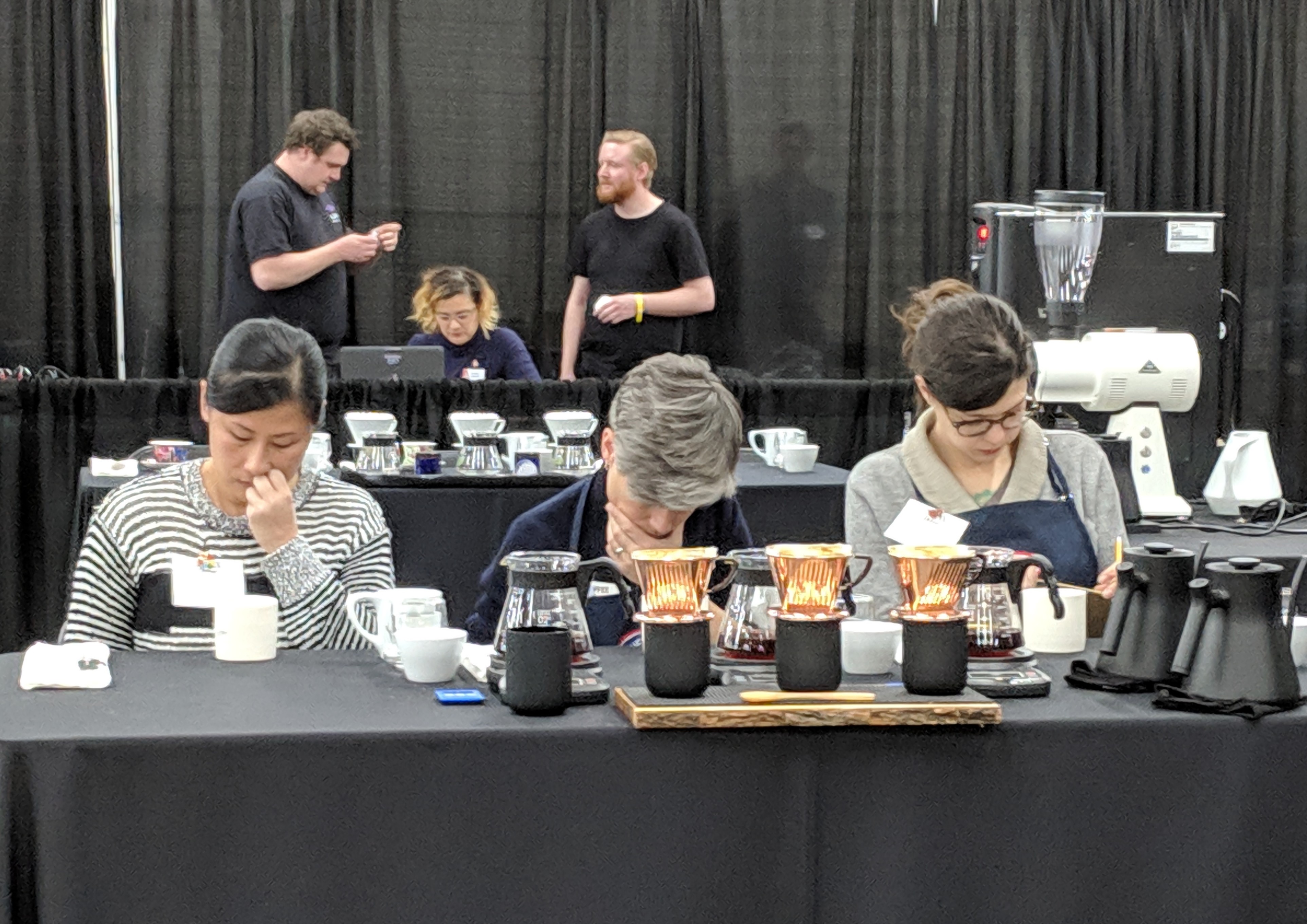 Each contestant brews three coffees simultaneously to be presented to three different sitting judges, a fourth standing judge or 'head judge' samples all three cups which need to be consistent.
The contestants have 5 minutes of prep time, to display all the material on the table; once this is done the judges enter the room and take their place to listen to the presentation.The contestant has 8 minutes to make their presentation. They need to brew three coffees simultaneously while introducing themselves, telling their story and presenting the coffee. They should be able to describe all the flavor notes in the particular coffee they are using, explaining what and why they are using this particular brewing method…
Most contestants use pour-over as a brewing method, but there are still a wide range of devices to choose from. In pour-over only the dripper has many options; it can be round with a small or large hole at the bottom or flattened on one side with multiple holes, or even flat at the bottom with a manual way to open it. It can be made of glass, ceramic or metal any of those options can come in different colors...there are so many choices… and they all make a difference!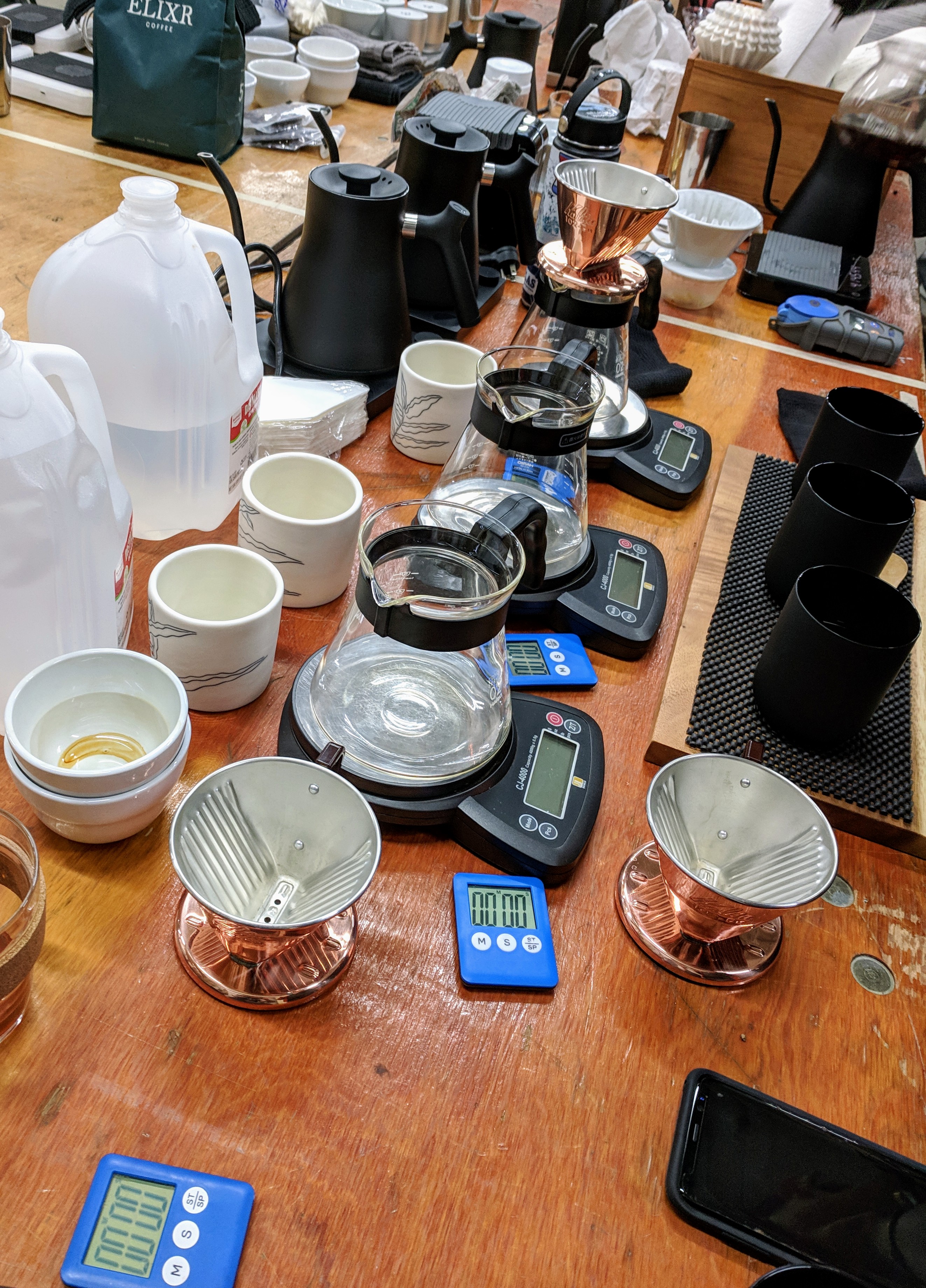 A full brewing set includes: a scale, a timer, a carafe, a dripper, a resting cup, a serving cup, paper filters, and a kettle ...you will need to have three sets for the competition plus an extra timer for the presentation.
All contestants are judged on their knowledge, the presentation, the brewed coffee and the consistency in the brewing. It takes a lot of practice to master the presentation. Madeleine did wonders with our coffee and ended in 6th place out of 36 participants which place her in the top 12 brewers in the US: this is pretty awesome considering the fact that this is her first competition!
It was also a great team work between a farmer, roaster, a Licensed Q Grader and barista, and even a local pottery master; all these different coffee professionals came together to put Hawaii Specialty Coffee on the map.
Mission accomplished1