Put Coffee on Everything
Everyone has an inner artist within them. Some paint and others create sculptures. Some bake cakes and others roll sushi. Art allows us to exercise our creativity and demonstrate how our imagination is our only limitation.
Hala Tree Coffee is no exception to this rule. We enjoy innovating and creating as much as the next artist. One creation that we are most proud of is our Black Elixir. With a love of coffee flowing through our veins and an abundance of wonderful ingredients on our farm, we created a perfect marriage between our rich coffee and our sweet honey. While the exact recipe is our secret, Black Elixir is a blend of concentrated Hala Tree Kona Coffee and our Coffee Blossom Honey. It has roasty chocolate notes from the coffee and a sweet finish from the honey. In the spirit of bringing out the inner artist, Black Elixir can be used in an endless number of ways and we are always learning something new from our customers. If you have been considering getting a bottle of this 'sweet stuff' but don't know how you can use it, here are three ideas...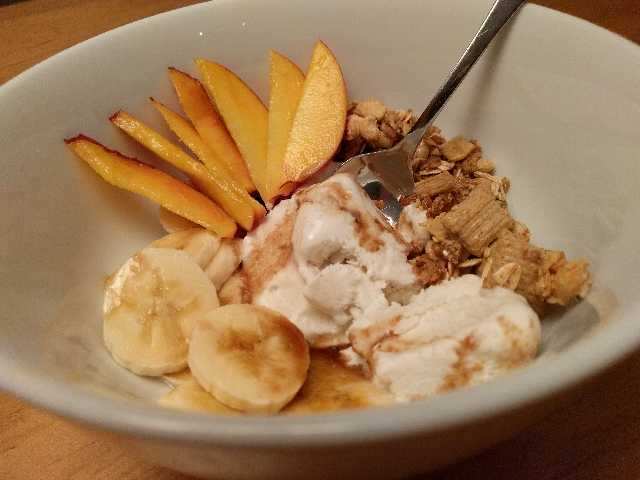 Top it on ice cream: Black Elixir is an excellent compliment to everyone's favorite cold dessert. Put it on top of your favorite ice cream flavor, mix it with some vanilla ice cream to create a Kona Coffee milk shake or drizzle some on a plate as a garnish for cake with a scoop of ice cream. It is truly ice cream's new best friend!
Use it in a marinade: One of our customers sent us a rave review of Black Elixir after he used it as part of his steak marinade. The caramelization from the honey and the flavor from the coffee will add a unique flavor to your grilled steak or BBQ ribs.
Sweeten your coffee: Yes! Believe it or not, coffee flavored honey goes great in coffee! You can also bring some coffee flavor to other drinks like Chai or Black Tea.
That is just scratching the surface on how Black Elixir can be used to enhance the flavor in your favorite drink, dessert or food. Now for the challenge for all of you budding artists out there... Get yourself a bottle of Black Elixir, experiment and post your works of art on social media with the hashtag #BlackElixirArt. Also be sure to send us any amazing recipes and we will be sure to share it with the Hala Tree community! Enjoy :-)